Guth Gafa is celebrating its 10th birthday next weekend with a bumper summer party of amazing film, mouth-watering food and live music in the glorious gardens of  the 18th century Headfort House on the outskirts of Kells, Co Meath.
The Guth Gafa Festival Club at Headfort House will be the ambient setting for some spectacular music with an international flavour that's in keeping with the films on offer.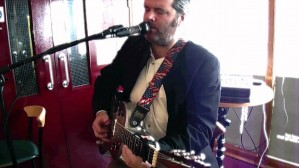 Things  kick off at 11pm on Friday night with Belfast Blues man Mark Braidner and his Blues Trio.
They play an eclectic mix of delta Blues, Ragtime and Hokum Swing, influenced primarily by the music popular in the Southern US during the 1920's and 30's. These guys never fail to impress, getting toes tapping and feet stomping wherever they go!
Saturday night's post film entertainment begins at 10.30 with The Dublin Bluegrass Collective, a Dublin based five piece bluegrass band with members from Toronto, Czech, France and the West of Ireland.
Drawing influence from all generations of the bluegrass style, from its roots to its most modern themes, this band performs an exciting and rounded range of material.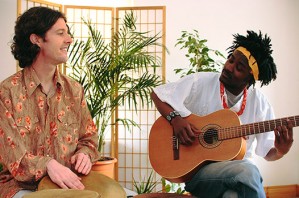 They will be followed by  the Saturday headline act, the extraordinarily talented Congolese musician and singer Niwel Tsumbu who, along  Eamonn Cagney and Patrick Groenland, combine sublime percussion, guitars and vocal skills to create a unique world music sound.
Since arriving in Ireland in 2004, Tsumbu has developed an enviable reputation as a masterfully elegant and fluent guitarist, vocalist, musician, collaborator and composer. He performs with the finest Irish and international musicians while continuing to craft his own distinctive fusion of new jazz, rhumba, world, flamenco, rock, soukous and classical.
Entry to the Festival Club is free for anyone who holds a Guth Gafa Festival Pass or Cinema ticket for that day. For non-festival goers, there is a €10 cover charge.