IRISH PREMIERE
Paul Fegan, Scotland, 2016, 75′
Aidan Moffat, city slicker and pop provocateur has taken a crowbar to some of Scotland's best loved folk songs, with mixed results. His mission to give the country's centuries old oral tradition a makeover runs aground when the doyen of Scottish folk music Sheila Stewart tells him exactly what she thinks of his efforts. "I was disgusted", she says. Not to be deterred, Aidan embarks on a countrywide tour to win hearts and minds for his new versions of the standards, replacing the traditional lyrics with bawdy blue verses. It raises more than a few grey eyebrows in the mixed audiences and he's lucky to make it out of town without being lynched. In the end, his fondness for the now late Sheila Stewart is revealed in a wry speech from the stage in which he questions tradition and his right to mess with it.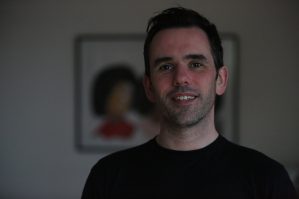 Paul Fegan's debut short documentary, Pouters (2012), won countless awards including Best Documentary (Jury Award) at London Short Film Festival, Best Film (Audience Award) at Hamburg International Short Film Festival and Best Scottish Short Film (Jury Award) at the Glasgow Short Film Festival. He also directed music videos, including Belle & Sebastian's Come on Sister and Moffat and Wells' The Copper Top. Fegan also has an extensive background in music promotion and has been producing music events for over 20 years, including Triptych Music Festival. He is the director of production company Better Days.
Please see note on parental guidance below
Director: Paul Fegan
Producer: Paul Fegan
Camera: Julian Schwanitz
Editor: David Arthur
Music: Aidan Moffat, Steve Jones, Jenny Reeves, Michael John McCarthy, James Graham
Website: http://whereyouremeanttobe.com
Saturday 5th Aug, 5.30pm, Road House Cinema, Headfort House (Q&A)
Monday 7th Aug, 5.00pm, Hangar Cinema, Headfort House
Tickets can be purchased online. However, tickets will still be available at the box office in Headfort House. Please note the closest ATM to Headfort House is in Kells Town (approx. 2kms) & there are no card facilities at the box office.
Parental Guidance Note
These films have been recommended by the Guth Gafa Programming Team as suitable for ages 16 and over. However, parental discretion is advised and we ask parents to consider the film synopsis and watch the film trailer before purchasing tickets.