THURS 4th AUG, 1PM 
Taggart Siegel, USA, 2005, 83'
Q&A
The soil tastes good today," the passionate 55-year-old farmer John Peterson says as he takes a mouthful of his native ground. When his father dies of diabetes in the late 1960s, managing the farm falls on John's young shoulders. He transforms the traditional farm into a sanctuary for hippies and artists, running up huge debts at the age of thirty. In the depths of the economic crisis in the 1980s, he is forced to sell nearly all the land his father had accumulated over many years of diligent farming. In 1990, John picks up the farm work again, but this time with an organic approach. Only when a number of consumers from Chicago come to him with a shareholder system, in which a fixed group of families buys his products every week, is there a glimmer of hope. The Real Dirt on Farmer John is the epic tale of a maverick Midwestern farmer. By melding the traditions of family farming with the power of art and free expression, this quintessentially American story heralds a resurrection of farming in America. Through highly personal interviews and 50 years of remarkably textured footage, filmmaker Taggart Siegel shares Farmer John's haunting and humorous odyssey, capturing what it means to be wildly different in a rural community.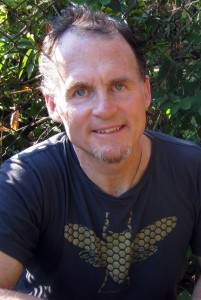 Taggart Siegel has produced and directed Emmy-nominated, award-winning documentaries including QUEEN OF THE SUN: What are the Bees Telling Us? and THE REAL DIRT ON FARMER JOHN (ITVS, Independent Lens). These films received critical-acclaim during their theatrical release and garnered over 40 international awards. Siegel is a Fledgling Outreach and Engagement Lab Fellow and was selected to pitch at Britdoc's GOODPITCH for SEED: The Untold Story. His previous PBS films include: SPLIT HORN, (ITVS, Independent Lens), BETWEEN TWO WORLDS, BLUE COLLAR AND BUDDHA and HEART BRO- KEN IN HALF. Collectively, they capture the struggle of refugees and immigrants in America. He produced the National Geographic film DISENCHANTED FOREST about orangutans in Borneo and was the director of SHADOW OF A PEPPER TREE. Taggart is the founder and Executive Director of Collective Eye Films, a non-profit media production and distribution organization based in Portland, Oregon.
Director: Taggart Siegel
Producer: Teri Lang, Taggart Siegel
Camera: Taggart Siegel
Editor: Greg Snider
Sound: Barney Jones
Music: Mark Orton
Thursday 4th Aug, 1pm, Headfort Theatre
Online bookings for films close at 12 midnight the night before. However, tickets will still be available at the box office in Headfort House. Please note the closest ATM to Headfort House is in Kells Town (approx. 2kms) & there are no card facilities at the box office.