OPENING FILM
IRISH PREMIERE
Maite Alberdi, Chile, The Netherlands, France, 2016, 82'
Anita works in a bakery that provides sheltered employment for people with Down syndrome. But life is less than sweet for Anita and her boyfriend Andres: desperate to get married they don't see why they can't. Although the bakery is a safe space the couple are bored with the routine and clearly want to move on … together. Drawing out each member of the bakery staff as a complex character, director Maite Alberdi skillfully provides a very ordinary backdrop to this tender love story, a story that comes complete with lust and tragedy – just like any other love story. The Grown-Ups subtly questions society's view of the intellectually disabled as childlike and asexual, as non-contributors with diminished rights.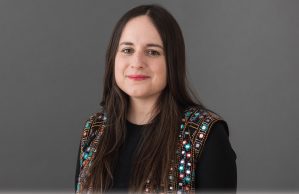 Maite Alberdi has developed a highly particular directing style that achieves an intimate portrayal of the characters she works with, through everyday stories in small-scale worlds. In 2011 she premiered her first and noted feature film The Lifeguard at IDFA. Through her production company, Micromundo, she directed her film, Tea Time, which has received several awards including Best Female-Directed EDA Award-IDFA and Best Documentary Award at Miami International Film Festival. She was nominee for the Goya Awards as Best lbero-American Film. Her short film I am not from here, was nominated for the European Film Awards 2016.
Please see note on parental guidance below
Director: Maite Alberdi
Producer: Maite Alberdi, Denis Vaslin, Fleur Knopperts, Sebastián Brahm
Camera : Pablo Valdés
Editor: Juan Eduardo Murillo, Menno Boerema
Music: Miguel Miranda, José Miguel Tobar
Website:  http://thegrown-ups.com
Sunday 6th Aug, 2.15pm, Adam Room, Headfort House
Monday 7th Aug, 4.45pm, Road House Cinema, Headfort House
Tickets can be purchased online. However, tickets will still be available at the box office in Headfort House. Please note the closest ATM to Headfort House is in Kells Town (approx. 2kms) & there are no card facilities at the box office.
Parental Guidance Note
These films have been recommended by the Guth Gafa Programming Team as suitable for children 12 and over. However, parental discretion is advised and we ask parents to consider the film synopsis and watch the film trailer before purchasing tickets.