Otto Bell, USA, 2016, 87'
Mongolian teen, Aisholpan and her dad do lots of stuff together but in the remote Altai Mountains that doesn't mean hanging out at the mall – more likely it's herding and eagle hunting. Traditionally the art of hunting with eagles has been a male preserve but Aisholpan has had a taste of it and begs her dad to teach her the secrets of the ancient art. Initially he's not sure, the elders disapprove and historically there's never been an eagle huntress. But daughters have a way of getting what they want and soon she's in the saddle with a Golden Eagle on her arm. It is surely a film about success of the girl child but equally it's a profoundly beautiful story of a gentle man – a lesson to fathers everywhere.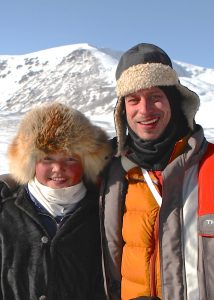 Otto Bell runs Courageous, a commercial studio of filmmakers and designers based in New York. He has directed over fifteen documentary films as far afield as Uganda, Japan, Egypt and Vietnam for brands such as IBM and Philips. He has also created and produced multi-award winning world affairs programming such as Horizons on BBC World News and Shunya on Times Now of India. Otto is a graduate of Oxford University and the prestigious WPP Fellowship Scheme. He lives in Manhattan, but originally hails from Northern England.
Director: Otto Bell
Producer: Stacey Reiss, Sharon Chang, Otto Bell
Camera: Simon Niblett
Editor: Pierre Takal
Sound: Andrew Yarme
Music: Jeff Peters
Website: http://theeaglehuntress.com/site/
Saturday 5th Aug, 1.45pm, The Hangar Cinema, Headfort House
Monday 7th Aug, 11.15am, Road House Cinema, Headfort House
Tickets can be purchased online. However, tickets will still be available at the box office in Headfort House. Please note the closest ATM to Headfort House is in Kells Town (approx. 2kms) & there are no card facilities at the box office.