SAT 6th AUG, 11AM
Irish Premiere
Rokhsareh Ghaem Maghami, Iran/Germany/Switzerland, 2016, 90'
Sonita is an 18-year-old female, an undocumented Afghan illegal immigrant living in the poor suburbs of Tehran. She is a feisty, spirited, young woman who fights to live the way she wants, as an artist, singer, and musician in spite of all her obstacles she confronts in Iran and her conservative patriarchal family. In harsh contrast to her goal is the plan of her family – strongly advanced by her mother – to make her a bride and sell her to a new family. The price right now is about US$ 9.000.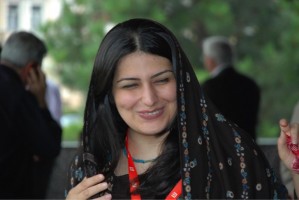 Rokhsareh Ghaem Maghami studied filmmaking and animation in Tehran Art University. Her research on animated documentary resulted to writing a book, named: "Animated Documentary, a New Way to Express". She has made 6 documentaries and won more than 20 international awards. Cyanosis (2007) and Going up the Stairs (2011) have a wide international exposure.
Director: Rokhsareh Ghaem Maghami
Producer: Aline Schmid, Kerstin Kreig, Rokhsareh Ghaem Maghami
Camera: Behrouz Badrouj, Ali Mohammad Ghasemi, Mohammad Haddadi, Arastoo Givi, Torben Bernard, Parviz Arefi, Ala Mohseni
Editor: Rune Schweitzer
Score: Moritz Denis
Music Layout: Guillaume Wuhrmann
Original Songs By: Sonita Alizadeh, Sepandarmaz Elahi Shirazi
Website: http://www.wmm.com/sonita/
Saturday 6th Aug, 11am, Cinemobile, Headfort House
Online bookings for films close at 12 midnight the night before. However, tickets will still be available at the box office in Headfort House. Please note the closest ATM to Headfort House is in Kells Town (approx. 2kms) & there are no card facilities at the box office.
Screening Supported By: