Neasa Ní Chianáin, David Rane, Ireland/Spain, 2016, 100'
The award-winning film that charmed audiences in America and Europe returns home for screenings at the very location at which it was shot – Headfort School plays host to a local film made good. The story of teachers John and Amanda Leyden, on the brink of retirement, reflecting on a collective 90 years of chalk, is pure magic. It appears that for John, the differences between Latin, Mathematics and Rock 'n' Roll are nominal while Amanda steam-rolls reading with a zealot's passion. The film reflects a unique kind of fondness that existed between tutor and ward in years gone by – a genuine love of all that makes childhood so precious. A triumph for County Meath, the film carries a warm empowering message for parents and kids alike: schooldays can be cool days.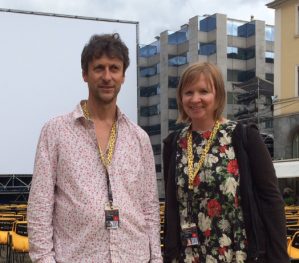 Neasa Ní Chianáin started directing documentaries in 2001. She has directed four features including Frank Ned & Busy Lizzie (2004)and Fairytale of Kathmandu (2007). Her film, The Stranger, premiered in Locarno Film Festival in 2014.  School Life screened at IDFA (World premiere) and Sundance (North American premiere), and goes on cinema release with Magnolia Pictures this September.
David Rane has directed documentaries since 1997, including Chiapas (1998) and No Man's Land (2001) and has produced short fiction films and animation, including the BAFTA-winning Sir Gawain and the Green Knight (2012). He has produced all Neasa's films to date, and School Life is their first co-directed feature documentary.
Director: Neasa Ní Chianáin, David Rane
Producer: David Rane
Camera: Neasa Ní Chianáin, Tristan Clamorgan, Eleanor Bowman
Editor: Mirjam Strugalla
Sound: David Rane, Keith Grainger, Reto Stamm
Music: Eryck Abecassis
Website: http://www.schoollifefilm.com
Saturday 5th Aug, 8.00pm, Adam Room, Headfort House (Q&A)
Sunday 6th Aug, 11.15am, Road House Cinema, Headfort House (Q&A)
Tickets can be purchased online. However, tickets will still be available at the box office in Headfort House. Please note the closest ATM to Headfort House is in Kells Town (approx. 2kms) & there are no card facilities at the box office.