THURS 4th AUG, 1.15AM/
SUN 7th AUG, 10.30AM 
Suzanne Chisholm, Michael Parfit, Canada, 2008, 92'
Luna, a baby killer whale, gets separated from his family on the rugged, wild coast of Vancouver Island. All alone, he seems determined to make friends with humans. People fall in love with him – a cook on an old freighter, a gruff fisheries officer, an elder and a young man from a First Nations band. But the government decides that being friendly with Luna is bad for him, and tries to keep him and people apart.
This effort becomes hilarious and baffling, because Luna refuses to give up his search for a social life. This leads to battles between the government and the First Nations, and between those who love Luna and those who think a wild animal who inconveniences humans should be killed. In the end, Saving Luna explores one of the greatest of mysteries: Who are these lives who share the planet with us humans, and what are the connections between us that we do not yet know?
Please see note on parental guidance below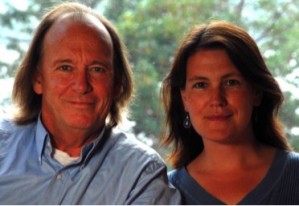 Suzanne Chisholm and Michael Parfit are writers and documentary filmmakers. They specialize in telling stories of the relationships between people and the natural world. Together they form Mountainside Films Ltd., an independent Canadian production company. They have worked on all seven continents. They are married and live on a small island in British Columbia, Canada.
Together, Suzanne and Michael directed, produced and filmed over 20 stories for the National Geographic Channel, on subjects as diverse as puffins, melting ice in Greenland, the Inuit of Nunavut, Newfoundland fisheries, rising sea levels in the Netherlands, ecological hotspots in the South Pacific, and minorities in Europe. They also directed and produced The Search for the Never Never, a one-hour documentary about the Australian environment, which was distributed internationally. Their first film was Letters from the Forgotten People, a story about refugees in Tanzania. Their work has been shown on National Geographic Channel, CNN, PBS, BBC, NHK, France 2 and CBC. Their first feature documentary, Saving Luna, has screened in dozens of festivals worldwide, has won over 20 awards, and was released theatrically in Canada.
Directors: Suzanne Chisholm, Michael Parfit
Producer: Suzanne Chisholm
Camera: Suzanne Chisholm, Michael Parfit
Writer/Editor: Michael Parfit
Sound: Michael Parfit
Music: Tobin Stokes and David Parfit
Website: http://www.savingluna.com/index.html
Single Ticket – Thursday 4th Aug, 1.15pm, Cinemobile, Headfort House
Kids in Kells Double Bill  – Thursday 4th Aug, Cinemobile, Headfort House (ticket covers both Jonas And The Backyard Circus & Saving Luna)
Sunday 7th Aug, 10.30am, Cinemobile, Headfort House
Online bookings for films close at 12 midnight the night before. However, tickets will still be available at the box office in Headfort House. Please note the closest ATM to Headfort House is in Kells Town (approx. 2kms) & there are no card facilities at the box office.
Parental Guidance Note

These films have been recommended by the Guth Gafa Programming Team as suitable to be part of our 'Family Friendly' or 'Kids in Kells' strands.  However, parental discretion is advised and we ask parents to consider the film synopsis and watch the film trailer before purchasing tickets.