IRISH PREMIERE
Jonathan Olshefski, USA, 2017, 104'
Beautifully shot over 10 years, with patience and empathy, Jonathan Olshefski's film unpacks the contradictions that go with America, race and class. A North Philadelphia family dedicated to the neighbourhood finds being a force for good in a community is no insurance against Inner city troubles. It's cold irony that as the music producer father provides a platform for rap artists to claw their way out of poverty, the family become victims of random violence from the street. Chris Rainey, aka "Quest" runs a recording studio for young rappers in need of a platform while his wife Christine'a, aka "Ma Quest" works at a local shelter for abused women. For the Raineys, the neighbourhood they call home is a mix of ordinary and life-shattering: affirming solidarity and frightening violence. And although material success has eluded them, the family emerges progressive and proud.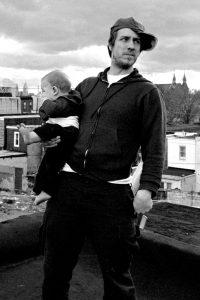 Jonathan Olshefski is a documentary filmmaker and artist. He strives to tell intimate and nuanced stories that honour his subjects' complexity by employing a production process that emphasises collaboration, dialogue, and relationship to amplify their voices and reflect their points of view in an artful way. He has an MFA in Film and Media Arts from Temple University and is currently an Associate Professor at Rowan University where he teaches in the department of Radio, TV, and Film.
Please see note on parental guidance below
Director: Jonathan Olshefski
Producer: Sabrina Schmidt Gordon
Camera: Jonathan Olshefski
Editor: Lindsay Utz
Sound: Jonathan Olshefski
Music: Christopher Rainey, T. Griffin
Website: http://www.quest-documentary.com
Sunday 6th Aug, 8.00pm, Adam Room, Headfort House (Q&A)
Tickets can be purchased online. However, tickets will still be available at the box office in Headfort House. Please note the closest ATM to Headfort House is in Kells Town (approx. 2kms) & there are no card facilities at the box office.
Parental Guidance Note
These films have been recommended by the Guth Gafa Programming Team as suitable for children 12 and over. However, parental discretion is advised and we ask parents to consider the film synopsis and watch the film trailer before purchasing tickets.