FRI 5th AUG, 1.15PM 
Gabriel Nobel, USA, 2009, 86'
When Jesse discovers that his youngest daughter, Priscilla, can rap and perform, he sees redemption for his own failed music career and financial salvation for his family and commits his life to making her a star. We follow the father-daughter duo through the grit and glamour of the music industry, capturing the daily struggles of a single parent raising his two children alone, and the sacrifices a child makes in order to make her daddy proud.
Please see note on parental guidance below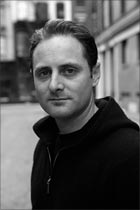 As a graduate of UCLA, Gabriel founded and served as artistic director of Equal Opportunity Productions, an arts outreach organization that uses arts education to empower youth in Los Angeles, Cuba and South Africa. Gabriel was assistant director on the narrative film On the Outs, which was nominated for an IFP Indie Spirit Award and a Gotham Award, and which won the Grand Prize at the Slamdance Festival. He produced Death of Two Sons, a political, spiritual and personal exploration of the death of Amadou Diallo, which was executive produced by HBO. Gabriel's directorial debut was the feature documentary Autumn's Eyes, a story of a teenage mother sentenced to prison that is told from the perspective of her 3-year-old daughter. He has since served as director/producer on a feature documentary for MTV News and Docs, I Won't Love You to Death, and as supervising field producer for CNBC's talk show dLife, for five seasons. In addition to working as a director, producer and cinematographer for film and television, Gabriel also teaches film for the Pearson Foundation. Gabriel is in development as a writer/producer for a feature fiction film, set for production in the summer of 2010.
Director: Gabriel Nobel
Producer: Marjan Tehrani
Camera: Gabriel Nobel
Editor: David Abelson
Music: Ion Furjanic, Brian Satz
Single Ticket – Friday 5th Aug, 1.15pm, Cinemobile, Headfort House
Kids in Kells Double Bill  – Friday 5th Aug, Cinemobile, Headfort House (ticket covers both All The Time In The World & P-Star Rising)
Online bookings for films close at 12 midnight the night before. However, tickets will still be available at the box office in Headfort House. Please note the closest ATM to Headfort House is in Kells Town (approx. 2kms) & there are no card facilities at the box office.
Parental Guidance Note

These films have been recommended by the Guth Gafa Programming Team as suitable to be part of our 'Family Friendly' or 'Kids in Kells' strands.  However, parental discretion is advised and we ask parents to consider the film synopsis and watch the film trailer before purchasing tickets.