FRI 5th AUG, 4PM
IRISH PREMIERE
Q&A
Imam Hasanov, Azerbaijan/Germany/Romania/Qatar, 2016, 75'
Tapdig has a dream of bringing a European cow into his picturesque village in Azerbaijan to improve the conditions of his poor family. He decides to call the cow Madona. His passion unsettles the traditional community, the Old Men see a threat in having a foreign cow among them as they say its milk will be full of chemicals. Even his wife Vafa does not want to take care of such a strange breed. But Tapdig is ready to risk it all and challenges the conservative mentality to open up and rethink the attitude. How do human beings handle change while remaining true to their own traditions? HOLY COW questions the prejudices against the unknown and how ready are we to accept a newcomer.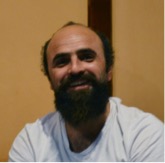 Imam Hasanov is an upcoming filmmaker from Quba, Azerbaijan. After graduating from the Baku State University of Art and Culture with a degree in Film and Theatre Directing in 2002, Hasanov made his debut as a director of several theatre plays and founded the Creative Youth Organisation Azerbaijan Union of Theatrical Figures.
In 2006, after a Studio Ateliers Varan course on documentary film, he started working as a director for national TV. HOLY COW is his first feature documentary. It received the CAUCADOC BEST PITCH AWARD in 2012 and was awarded at DOK INCUBATOR 2015. Imam is an alumni of the BERLINALE TALENT CAMPUS.
Director: Imam Hasanov
Producer: Veronika Janatková, Andra Popescu, Stefan Kloos
Camera: Sarvar Javadov
Editor: Philipp Gromov
Sound:
 Jalil Mamadov
Website: http://holycow-film.com
This Feature will be screened after the ICCL short 'Sumud: Everyday Resistance'
Details of Sumud: Everyday Resistance can be found here:
http://guthgafa.com/sumud-everyday-resistance/
Friday 5th Aug, 4pm, Cinemobile, Headfort House (tickets cover both Sumud: Everyday Resistance & Holy Cow)
Online bookings for films close at 12 midnight the night before. However, tickets will still be available at the box office in Headfort House. Please note the closest ATM to Headfort House is in Kells Town (approx. 2kms) & there are no card facilities at the box office.
Screening Supported By: