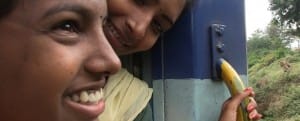 THE Guth Gafa International Film Festival is hosting an outreach event that will deliver a free workshop to young filmmakers in the Louth and Meath regions.
The festival, which takes place at Headfort House and Kells 2-4 October, has teamed up with Creative Spark, a creative training and workspace facility in Dundalk, Co Louth for the event,  which will take place on Monday 5 October, 2-5pm.
This workshop has been made possible thanks to support from Create Louth and Louth Arts Officer, Brian Harten.
British director, Chloe Ruthven, whose film Jungle Sisters will have its Irish premiere at the festival, will lead the workshop, which will address The Ethical Nightmares of Making a Documentary with a Family Member.
And she should know! Chloe traveled to India to film her sister Orlanda who runs a programme, which recruits young textile factory workers from remote rural areas.
The sisters had opposing views on the ethics of such programmes but during the course of filming, the perceptions of both shift.
The workshop will be followed at 7pm  by a screening of the film and a question and answer session with the director.
Refreshments will also be served.
Sarah Daly, Executive Director of Creative Spark, said the organisation was delighted to be facilitating the master class and screening.
"It offers a wonderful opportunity to local filmmakers and the local community to access international expertise and to meet and interact with international filmmakers.
"The extension of the Guth Gafa festival into Louth is a very positive development," she said.
Sarah McCann, producer of the Guth Gafa Festival added;
"As the festival has made Meath its permanent home, we wish to acknowledge the importance of supporting the arts in the Louth/Meath region and to recognize and support the work of filmmakers working in these regions."
Spaces for the workshop and screening are free but limited and booking is necessary.
Please contact sarah@guthgafa.com  or sarah@creativespark.ie  to reserve a space.
To see the full Guth Gafa programme go to www.guthgafa.com