SAT 6th AUG, 1.45PM 
IRISH PREMIERE
Q&A
Paul Salahadin Refsdal, Norway, 2016, 58'
An intimate portrait of a group of al-Qaida suicide bombers waiting for their turn on the list. We meet the slightly overweight Saudi fighter who loves fried chicken and the British convert excited about his marriage. The men soon discover that pushing the button is not as easy as they first thought. Winner Best Mid-Length Documentary Hot Docs 2016, Winner Best Mid-Length Documentary Nordic/Docs 2016.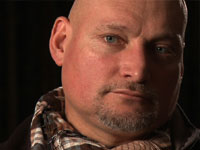 Paul Salahadin Refsdal is a journalist-turned-documentary filmmaker. After leaving the Norwegian army in 1984, he went to Afghanistan to report on the Mujahedin fighting Soviet occupation. In the following decades Refsdal reported on about a dozen insurgent groups including the KLA in Kosovo, the Tamil Tigers, the Shining Path of Peru, the Chechen rebels, the Afghan Taliban and the Syrian branch of al-Qaida.
Director: Paul Salahadin Refsdal
Producer: Ingvil Giske
Camera: Paul Salahadin Refsdal
Editor: Robert Stengård
Sound: Svenn Jakobsen
This Feature will be screened after the ICCL short 'Backlash: The War on Human Rights'
Details of Backlash: The War on Human Rights can be found here:
http://guthgafa.com/backlash-the-war-on-human-rights/
Saturday 6th Aug, 1.45pm, Cinemobile, Headfort House (ticket covers both Backlash: The War on Human Rights & Dugma – The Button)
Online bookings for films close at 12 midnight the night before. However, tickets will still be available at the box office in Headfort House. Please note the closest ATM to Headfort House is in Kells Town (approx. 2kms) & there are no card facilities at the box office.