THURS 4th AUG, 4.15PM
IRISH PREMIERE
Q&A
Shaon Chakraborty, Anna Persson, Sweden, 2015, 99'
Detained is an absorbing observation from within a Swedish immigration detention centre for rejected asylum seekers.
The film follows detainees and staff over the course of a summer. A mother separated from her children faces deportation, a young man waits for his life to begin, and staff members struggle with the impersonal bureaucracy required of their job.
With great sensibility to its characters and environment, Detained depicts the silent psychological horror faced by those held in modern detention centres and questions this crucial, global phenomenon.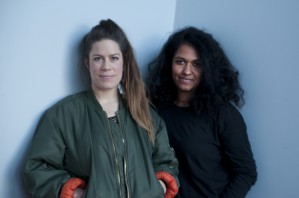 Shaon Chakraborty (right), born in 1982 in Bangladesh, is a filmmaker with her background in fine arts and photography.  Detained is her first documentary film, to which she also contributes as a still photographer. Chakraborty graduated from prestigious Nordic School of Photography in 2010. Since then she has been working as a freelance photo journalist and photographer for newspapers and magazines.
Anna Persson (left), born in 1981 in Sweden, graduated from the Documentary Directing programme at Stockholm Academy of Dramatic Arts in 2011 following studies in Political Science, Gender studies, Photography and Feature Journalism. Detained is Persson's feature debut.
Directors: Shaon Chakraborty, Anna Persson
Producer: Anna Weitz
Camera: Erik Vallsten
Editor: Kristin Grundström
Sound: Claes Lundberg
Music: Matti Bye
Website: http://www.forvaret.se/in-english/
Thursday 4th Aug, 4.15pm, Adam Room, Headfort House
Online bookings for films close at 12 midnight the night before. However, tickets will still be available at the box office in Headfort House. Please note the closest ATM to Headfort House is in Kells Town (approx. 2kms) & there are no card facilities at the box office.