IRISH PREMIERE
Jukka Kärkkäinen, J-P Passi, Finland, 2017, 97'
By punk band standards the Finnish group PKN tick all the boxes: they don't bother with too many complicated chords, they wind up the amp to 10 and one member takes his trousers off. But backstage it's revealed that their fortunes are in flux; they bicker over the music and the vocalist intimates that he's had enough. All looks doom and gloom till they get an offer–to enter the Eurovision Song Contest. This news reignites their passion for the music and soon a new song is in the offing. Now celebrities, can the band cope with success in a genre that celebrates nihilism? The fact that all the members have Down syndrome is part of their identity, nothing more nothing less.
Please see note on parental guidance below
Jukka Kärkkäinen has been making documentary films since 2003. He is a director and writer, known for Kovasikajuttu (2012), Kansakunnan Olohuone (2009) and Zetor – vappaana syntynt (2005). Aside from filmmaking Jukka has been working as a construction worker. He is the co-founder of Mouka Filmi production company.
J-P Passi has been working as a cinematographer since his graduation in 2000. In addition to shooting films, he also works as a screenwriter and director in both feature and documentary productions. Films directed, written, and/or shot by Passi have been screened and awarded at festivals, such as, Cannes, Locarno, and SXSW.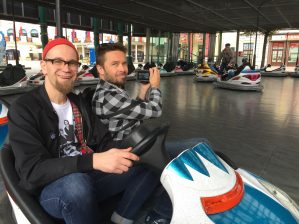 Director: Jukka Kärkkäinen, J-P Passi
Producer: Sami Jahnukainen
Camera: J-P Passi
Editor: Otto Heikola, Riitta Poikselkä
Sound: Antti Haikonen
Music: Pertti Kurikan Nimipäivät, Conny Malmqvist
Website: http://pkn.rocks/en/punk-voyage/
SCREENING TIME
Friday 20th July, 8.00pm, The Adam Room Cinema (Q&A)
BOOKING YOUR GUTH GAFA TICKETS
Please book your tickets online through the'Book Your Tickets Online Now' tab on our menu bar. Once you book your ticket online you will be required to bring the ticket that was emailed to you, for entry to the film. You can print your ticket at home, or present your ticket to be scanned on your mobile phone at the door of the venue. It is recommended that you book your tickets in advance as there is no guarantee of tickets still being available at the box office, on the festival site. In order to secure a seat for the film of your choice we recommend you book in advance. However, if you wish to book your tickets at the festival please note that the festival box office takes cash only. The nearest ATM to Headfort House is in Kells Town (approx. 2kms) & and there are no card facilities at the box office.
Parental Guidance Note
These films have been deemed appropriate by the Guth Gafa Programming Team as suitable for children 10 and over. However, parental discretion is always advise and we ask parents to consider the film synopsis and watch the film trailer before purchasing tickets.