IRISH PREMIERE
Alexandria Bombach, USA, 2018, 94'
It would have been so easy for Nadia Murad, a survivor of the Yazidi genocide, to walk away from her painful past, towards a new life and healing. She was raped, and had to watch her compatriots being shot; lucky to escape she spent a year in a refugee camp before finally arriving in Germany. With help the images may have dimmed, a supportive host country may have provided the comfort that recovery requires but Nadia chose a different path, she chose to confront the demons and tell her story, again and again and again. She spoke to anyone who would listen: presidents and parliaments, human rights organisations and the United Nations. It seemed that the secondary trauma, the telling, would break her but still she continued, convinced that as long as Yazidi people were suffering she could not be free.
Please see note on parental guidance below.
Alexandria Bombach is an award-winning cinematographer, editor, and director from Santa Fe, New Mexico. Her feature-length documentary Frame by Frame had its world premiere at the 2015 SXSW Film Festival and went on to win more than 25 film festival awards. The film follows four Afghan photojournalists facing the realities of building Afghanistan's first free press. She continued to work in Afghanistan in 2016 directing the New York Times Op-Doc, Afghanistan by Choice.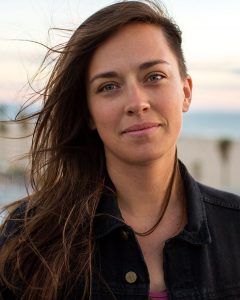 Director: Alexandria Bombach
Producer: Hayley Pappas, Brock Williams
Camera: Alexandria Bombach
Editor: Alexandria Bombach
Music: Patrick Jonsson
Website: http://www.onhershouldersfilm.com
SCREENING TIME
Friday 20th July, 8.00pm, The RoadHouse Cinema
BOOKING YOUR GUTH GAFA TICKETS
Please book your tickets online through the booking link below. Once you book your ticket online you will be required to bring the ticket that was emailed to you, for entry to the film. You can print your ticket at home, or present your ticket to be scanned on your mobile phone at the door of the venue. It is recommended that you book your tickets in advance as there is no guarantee of tickets still being available at the box office, on the festival site. In order to secure a seat for the film of your choice we recommend you book in advance. However, if you wish to book your tickets at the festival please note that the festival box office takes cash only. The nearest ATM to Headfort House is in Kells Town (approx. 2kms) & and there are no card facilities at the box office.
Parental Guidance Note
These films have been deemed appropriate by the Guth Gafa Programming Team as suitable for children 12 and over. However, parental discretion is always advise and we ask parents to consider the film synopsis and watch the film trailer before purchasing tickets.