Brett Morgen, USA, 2017, 90'
More than 100 hours of footage, presumed lost but rediscovered in 2014, documents the work of Jane Goodall in Tanzania, where in 1960 she became the first person to study the life of chimpanzees in the wild. At the time, naturalists had no idea that these animals could be dangerous, says the celebrated primatologist, who's now 83. She certainly believed that she would come to no harm, because she was where she belonged. With director Brett Morgen, she looks back at her life and groundbreaking work. It's chiefly the young Jane we see, through the lens of Hugo van Lawick, a famous filmmaker for National Geographic. He was commissioned to document her research, but the two fell in love. This shows through the way he films her, for example as she washes her hair in the river. Through his material and Jane's memories, some of the chimpanzees also become real personalities. They end up playing a decisive role in Jane's life. The score is by Philip Glass.
Please see note on parental guidance below.
Brett Morgen was born in Los Angeles and is a graduate of Hampshire College and NYU. Brett was once dubbed the "mad scientist" of documentary film by the New York Times. He has been directing writing, and producing ground breaking documentary films for the past 15 years. His credits include On the Ropes (1999), The Kids Stay in the Picture (2002), Nimrod Nation (2008), Cobain: Montage of Heck (2015), Jane (2017) is his latest feature film.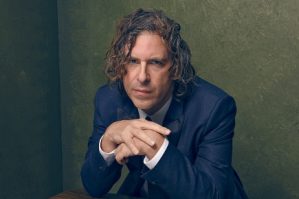 Director: Brett Morgen
Producer: Brett Morgen, Bryan Burk, James Smith
Camera: Hugo van Lawick, Ellen Kuras
Editor: Joe Beshenkovsky, Brett Morgen, Will Zndaric
Sound: Warren Shaw, Joshua Paul Johnson
Music: Philip Glass
Website: https://www.nationalgeographic.com/jane-the-movie/
SCREENING TIME
Friday 20th July, 5.45pm, The Adam Room Cinema
BOOKING YOUR GUTH GAFA TICKETS
Please book your tickets online through the booking link below. Once you book your ticket online you will be required to bring the ticket that was emailed to you, for entry to the film. You can print your ticket at home, or present your ticket to be scanned on your mobile phone at the door of the venue. It is recommended that you book your tickets in advance as there is no guarantee of tickets still being available at the box office, on the festival site. In order to secure a seat for the film of your choice we recommend you book in advance. However, if you wish to book your tickets at the festival please note that the festival box office takes cash only. The nearest ATM to Headfort House is in Kells Town (approx. 2kms) & and there are no card facilities at the box office.
Parental Guidance Note
These films have been deemed appropriate by the Guth Gafa Programming Team as suitable for children 7 and over. However, parental discretion is always advise and we ask parents to consider the film synopsis and watch the film trailer before purchasing tickets.