IRISH PREMIERE
David Sieveking, Germany, 2017, 95'
In the no-man's-land that divides the pro-vaccinators and anti-vaccinators there exists a complicated argument about live viruses, Big Pharma and the World Health Organisation. But for David and Jessica who are having a baby the choice is closer to home: their doctor wants Jessica to have a vaccination that would protect the unborn baby from neonatal tetanus. Jessica agrees but soon develops a violent reaction to the shot and so begins a journey that will take David half way around the world in his quest to get to the bottom of the vaccination debate. It's a fascinating trail that ends in Guinea Bissau with a world authority whose many decades of field research has led to an astonishing conclusion that neither camp imagined.
Please see note on parental guidance below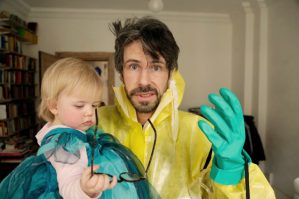 David Sieveking was born in Germany near Frankfurt am Main, and studied film directing at the DFFP, Berlin. During his studies, he directed many film projects, took part in the Berlinale Talent Campus, and worked as an editor, assistant director and actor for film and television productions. In 2012, his second theatrical release Forget Me Not won first prize at the Locarno Film Festival. The film was nominated for the German Film Prize 2013, and received many other awards (Goethe Institut Award at DOK Leipzig Film festival, First Prize at the International Planete Doc Festival in Warsaw etc.).
Director: David Sieveking
Producer: Katharina Bergfeld
Camera: Adrian Stähli, Kaspar Köpke
Editor: Mirja Gerle, Catrin Vogt
Sound: Sebastian Kleinloh, Felix Heibges
Music: Jessica de Rooij
NO ENGLISH TRAILER AVAILABLE YET – TRAILER BELOW IN GERMAN ONLY
Website: http://www.eingeimpft-film.de
SCREENING TIME Saturday 21st July, 12.15pm, The RoadHouse Cinema (Q&A)
BOOKING YOUR GUTH GAFA TICKETS
Please book your tickets online through the'Book Your Tickets Online Now' tab on our menu bar. Once you book your ticket online you will be required to bring the ticket that was emailed to you, for entry to the film. You can print your ticket at home, or present your ticket to be scanned on your mobile phone at the door of the venue. It is recommended that you book your tickets in advance as there is no guarantee of tickets still being available at the box office, on the festival site. In order to secure a seat for the film of your choice we recommend you book in advance. However, if you wish to book your tickets at the festival please note that the festival box office takes cash only. The nearest ATM to Headfort House is in Kells Town (approx. 2kms) & and there are no card facilities at the box office.
Parental Guidance Note
These films have been deemed appropriate by the Guth Gafa Programming Team as suitable for children 7 and over. However, parental discretion is always advise and we ask parents to consider the film synopsis and watch the film trailer before purchasing tickets.